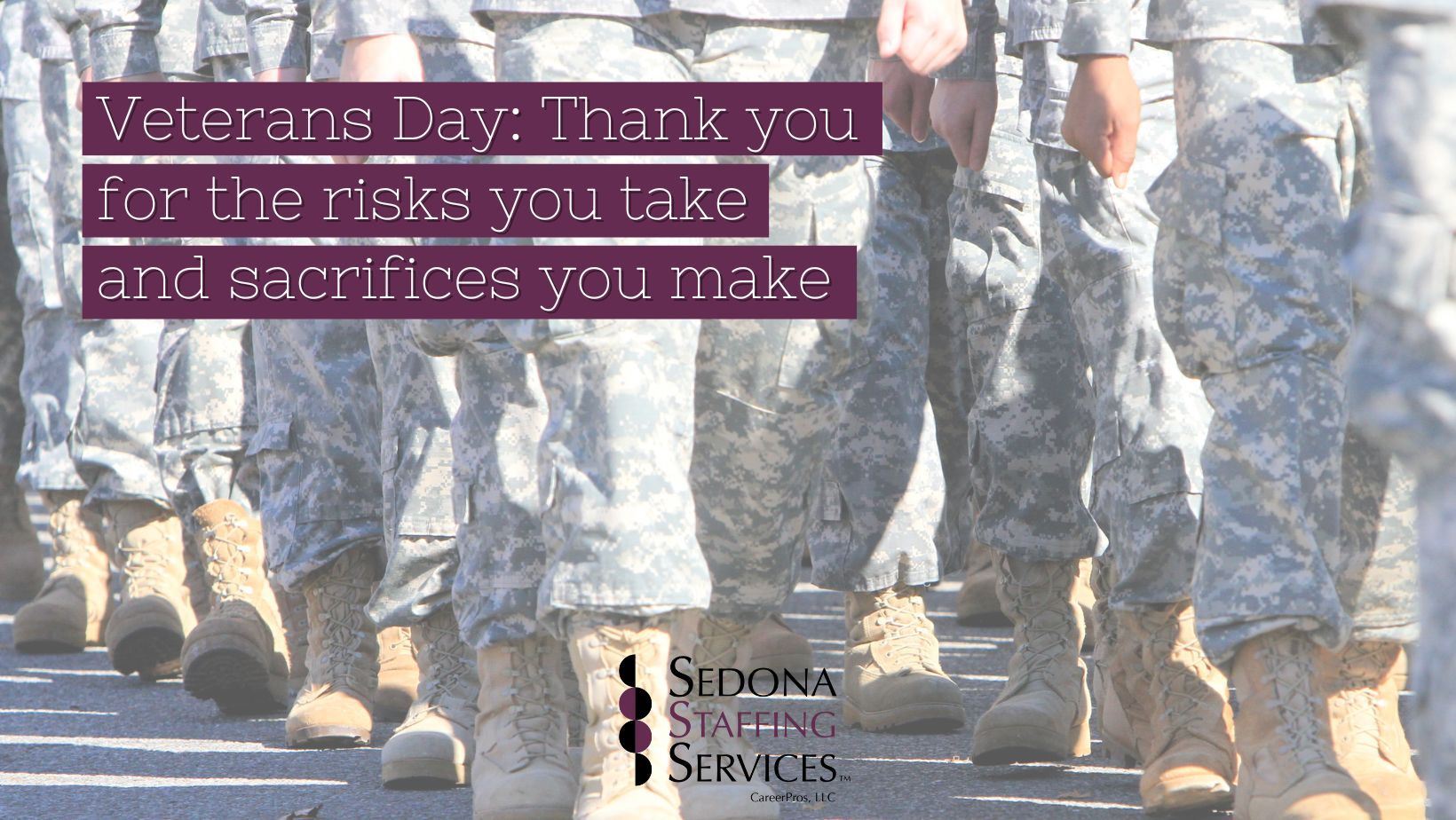 As Veteran's Day approaches, let's take a moment to pause and thank those military veterans who have served in the US Armed Forces. Did you know there are 7 branches of the military armed forces: Army, Marine Corps, Navy, Air Force, Space Force, Coast Guard and National Guard.
Military veterans bring so much to the workforce, their training and experience make a real asset for adaptability, discipline and focus. The skills learned and teamwork instilled are essential pieces that help transition into successful workforce opportunities outside of the military.
Over the years I've experienced firsthand the influence veterans provide to the workforce. Terry, a retired Sedona Recruiter and Army Vietnam Veteran, is a true example of service. Drafted into the military, the skills and experiences Terry gained as Lead Tank Commander transferred to the workforce after his military service and continue today. For 18+ years he was a Plant Manager in the manufacturing sector. Then going on to focus on recruiting, connecting candidates with companies and building relationships. This lead him to another project in helping a company implement LEAN manufacturing processes. He says his favorite part over the 30+ years is watching things change, develop, become more efficient and how you can improve. His integrity and willingness to always help others are unmatched. He says the military taught him punctuality, discipline and leadership and he certainly transitioned that into a successful career outside of the military. Fishing is his main passion these days and as I heard about his most recent fishing tournament, I wasn't surprised by his 1st place finish. Terry is someone who takes pride in everything he does, works hard and is a friend to all.
High school graduates have a number of choices in thinking of next steps – college, trade school, military or any number of opportunities. The workforce is ever changing and the same answer doesn't work for everyone. Choices are such a great thing no matter what aspect in life, we are lucky!
Most recently I had the opportunity to talk with Noah, a Marine that graduated from boot camp just a week prior to our conversation. I've known Noah a number of years and when he told me initially that he was enlisting in the Marines after high school graduation I was so excited for him and honestly a little scared. When we talked after his graduation from boot camp, I can certainly see all of the skills and experiences being taught. His commitment to persevere and push to the unknown is inspiring. Although his journey is just beginning, this adventure will definitely change and shape his future in ways yet to be determined.
Take a moment to remember why you are grateful.
THANK YOU to all those that have served in the Armed Forces, you are appreciated!!