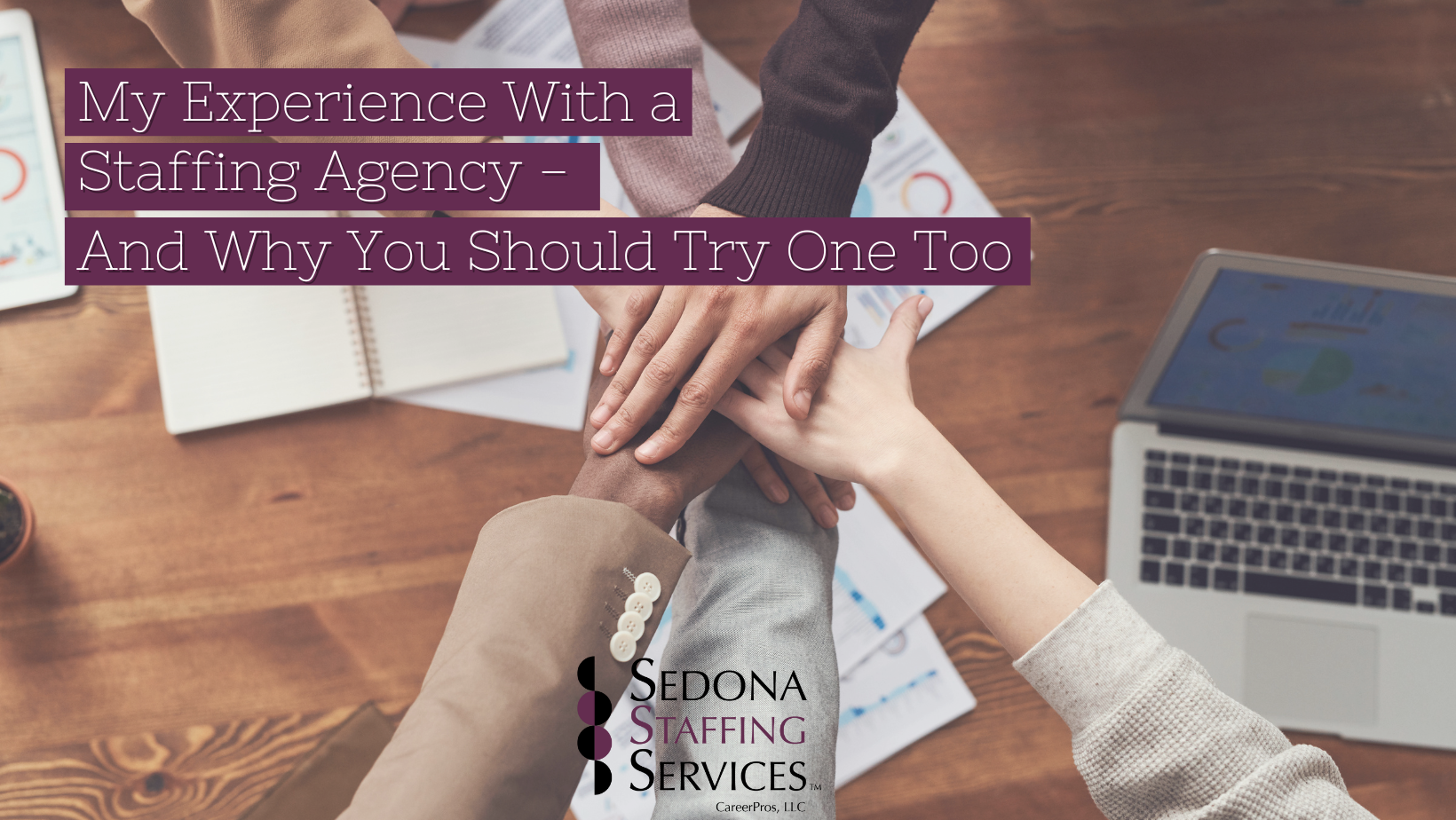 Why Work With a Staffing Agency?

I'll be honest, before I started working in the staffing industry I was pretty clueless as to what a staffing agency does. I knew they helped people find jobs, but I was always hesitant to use one, simply because I didn't know enough about what they do.
Fast forward to my post college job search, I decided to give the whole staffing service a shot. As it turned out Sedona was hiring for an internal position, in the field I majored in – so what I thought was me going in to register with the service turned into a job offer.
I quickly went from clueless about the staffing world to being immersed in it. And let me tell you, it has a lot more to offer than what you might think.
So why work with a staffing agency? What's the benefit for you?
Well first, it is a FREE service for job seekers to use. So if you just stop in to see what job opportunities are available or you start working, it will never cost you as a job seeker anything. It's like having a recruitment team on your side, giving you options that best align with your skills, experience, and wants.
Next, you only have to fill out one application to be considered for many different jobs. And if you're like me and dislike filling out applications, writing or typing the same information over and over, this is a major convenience. When you stop in to register, you fill out everything needed to start a new position (it will take about an hour), so you're ready to go when you get a job offer. Just an hour of your time and you can have job opportunities coming your way.
I need to debunk this too – we not only have temporary positions available, we also have positions where you are hired directly to a company. We do have some temporary positions which work well if you're between jobs and need some supplemental income, but most of our jobs are temp-to-hire. With our direct hire positions we help everyone from dishwashers to CEO's and at Sedona we recruit and place candidates nationwide. We service people in all walks of life, we're a team dedicated to helping people succeed.
So if you're stuck in a rut on your job search or thinking about a new job opportunity, come see us at your local Sedona office or visit www.careerpros.com to search jobs!