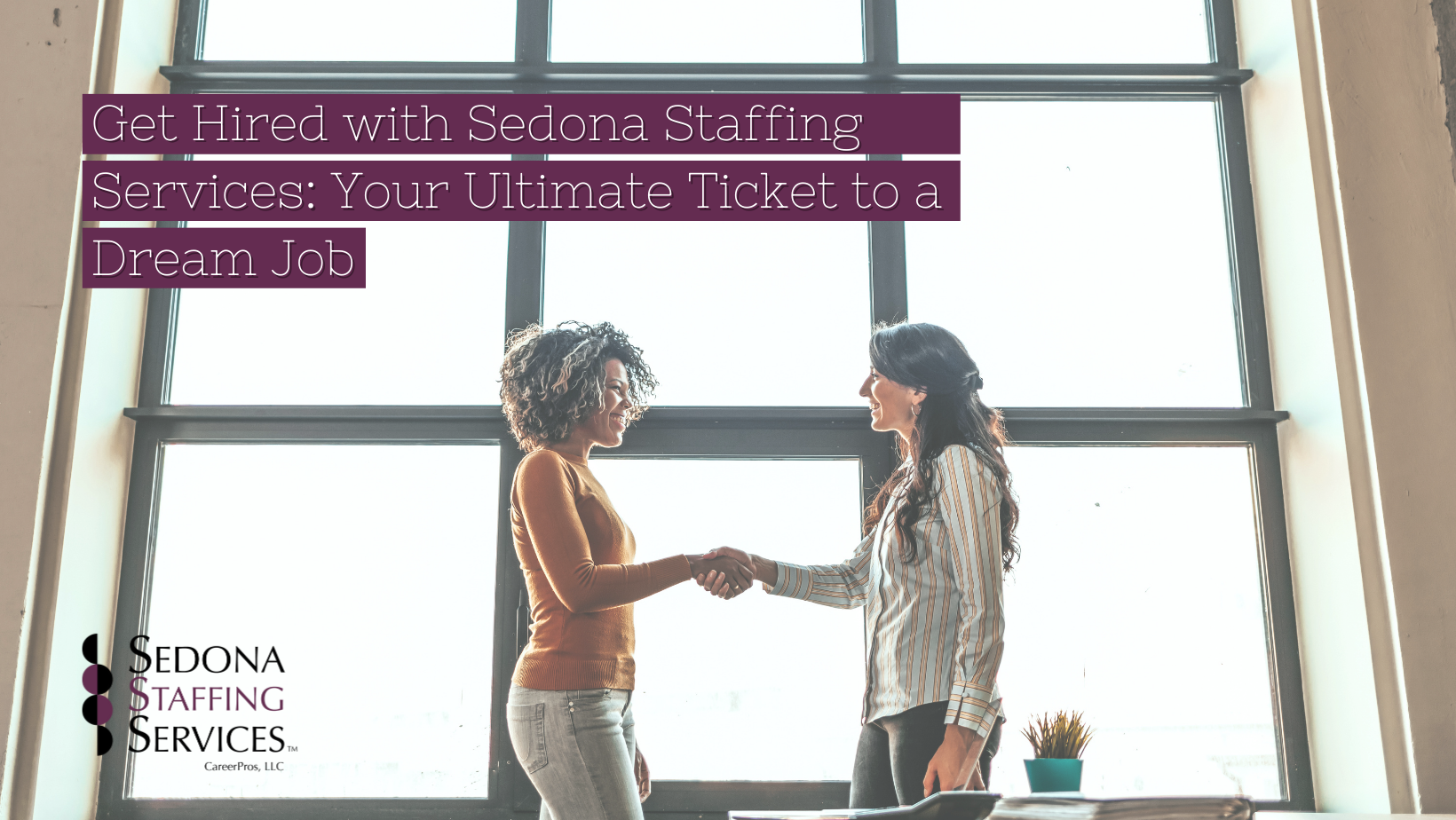 Get Hired with Sedona Staffing Services – Your Ultimate Ticket to a Dream Job
Are you tired of scrolling through countless job postings endlessly with no luck? Do you find yourself losing motivation and becoming disheartened with each passing day? If you're ready to take your job search to the next level, it's time to look into professional staffing services. In this blog, we'll introduce you to how Sedona Staffing Services can help you land your dream job and why Sedona should be an important addition to your job search!
1. Personalized Services – The first reason why Sedona Staffing Services is a top agency is there's never a one-size-fits-all approach and it's FREE to job seekers. We tailor our services to ensure you get personalized support. That includes one-on-one communication with you to learn about your goals, experience and skills. Once we have a clear understanding of what you hope to achieve, we'll work to find opportunities with positions that align with your job search.
2. Diverse Job Openings – You'll notice that staffing agencies have an extensive collection of employment opportunities from various industries; whether it's for full or part time hours or looking for direct hire positions or temporary positions. By working with Sedona, you'll have access to a broad range of job openings. We have longstanding relationships with numerous employers: from small businesses to large multinational corporations.
3. Streamlined Application Process – As hiring managers get more inundated with applications, it can be a struggle to get your resume to the top. At Sedona Staffing Services, we streamline the application process to make it more efficient for both you and the employer. Our online application and pre-screening process are designed to provide employers with the most up to date and accurate information about you.
4. Expert Career Advice – As well as offering various job opportunities, Sedona provides reliable guidance to improve your job search. Our Account Managers are experts in their field and they know what employers are looking for in a candidate. They will provide you with personalized feedback on your resume or interview preparation to ensure you give the best impression possible.
5. Advocacy for Your Success – Above all, Sedona is an agency that champions your success. We understand the importance of finding the right job, which is why our team works hard to make the right match. We also strive to provide a positive experience with our services every step of the way. We are proud to go above and beyond to ensure job seekers are seen, heard, and supported.
Getting hired can be a stressful, draining process. But, with Sedona Staffing Services, we take the reins, giving you the support you need! Our personalized services, diverse job openings, streamlined application process, career advice, and advocacy for your success make us the best choice to help you take that next step. What are you waiting for? Energize your job search today with Sedona Staffing!
Visit: www.careerpros.com
Email: info@careerpros.com
Call: 563.556.3040